Discover a Better Pharmacy Experience With The Wellness Pharmacy 360 App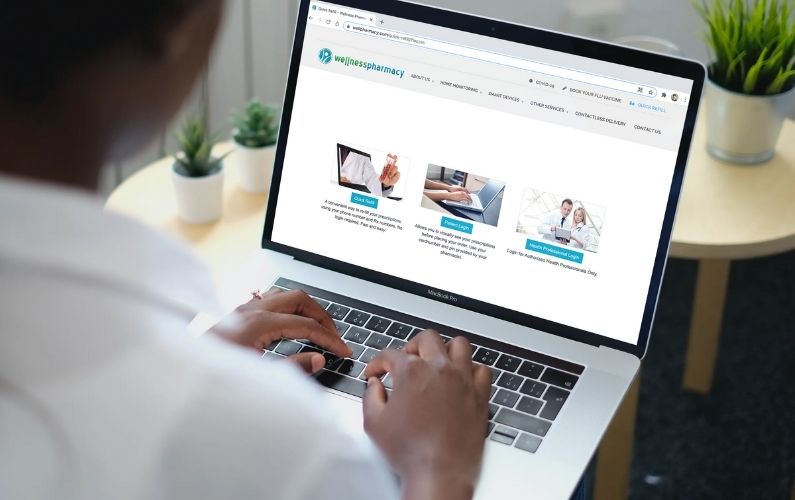 Learn how the Wellness Pharmacy 360 app can make your pharmacy experience better, with no extra cost to you.
Wellness Pharmacy 360 allows you to refill your medication or order new medication 24/7. Our innovative app is completely free and available on both the Google Play Store and the Apple App Store. You can also access the Quick Refill functions on your computer through our website here, in order to refill your medication from the comfort of your own home.
In this post, we'll go over what you can expect from the Wellness Pharmacy 360 app and Quick Refill on your computer.
Let's dive in.
Wellness Pharmacy 360 Features
Wellness Pharmacy 360 is a powerful app that was developed with our patients in mind. Our app allows you to manage your prescription profile and order your prescriptions quickly and easily using your smartphone.
With Wellness Pharmacy 360, your prescription profile is now at your fingertips any time you need it. At the emergency room, walk-in clinic, doctor's office, everywhere!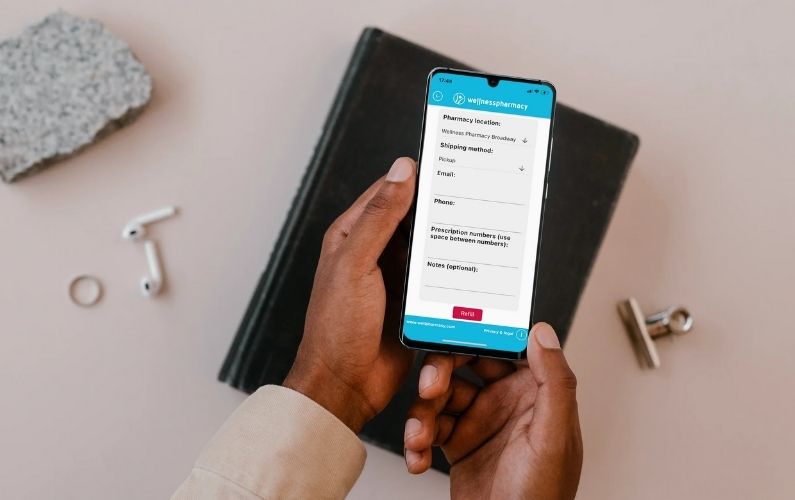 Here are the key features of the Wellness Pharmacy 360 App:
View Your Records: Real-time medication profile including the name of the drug with a picture, dosage, directions, number of refills, allergies and medical conditions.
Quick Refill: Select the medication you want to refill for pick up or delivery.
New Orders: Send a new prescription to us by just taking a photo. We would also need the original prescription when you pick up your medication.
Pick-Up Reminders: Receive an email or text when your prescription is ready for pick up.
Refill Reminders: Receive an email or text when your prescription is due for a refill.
Store Hours and Locations: Easily find a wellness pharmacy near you.
24-7 Access: Records and refills available at your fingertips whenever wherever.
Wellness Pharmacy is proud to offer free customized care services that are as unique as you are.
Here are some of the services we offer:
Smart Blister Packs: No more missed medication! An alert sounds when a dose is due, late, or taken at the wrong time. Caregivers and family members are kept informed via app or text.
Smart Dispenser: Smart dispenser is an automatic medication dispenser. When a dose is due, SMART dispenser lights up and chimes and can dispense your dose with the touch of a button.
Home Monitoring: A licensed nurse can visit your daily or weekly to administer medication and monitor chronic conditions like blood pressure and blood glucose.
Customize Compounding: Taylor-made medication can address problems like skin and pain conditions, personal allergies and intolerance to some ingredients.
Pharmacogenomic Testing (Fee Applies): This simple test determines how your DNA processes medication and can help your doctor personalize your treatment.
Immunizations and Travel Vaccinations: You can receive your annual flu shot and stay up-to-date on your regular and travel vaccinations.
Senior Discounts Bracket (55+): patients over the age of 55 receive a 10% discount on all over-the-counter medications.
Phone and online Medication Services: You can view your medication record online, receive refill reminders by phone or email, and receive texts when it was time to take your medication.
Free Prescription Delivery: Get your prescriptions delivered to your home or office – anywhere in the lower mainland.
Blister packaging, medication reviews, health and education clinics, multilingual staff, and more!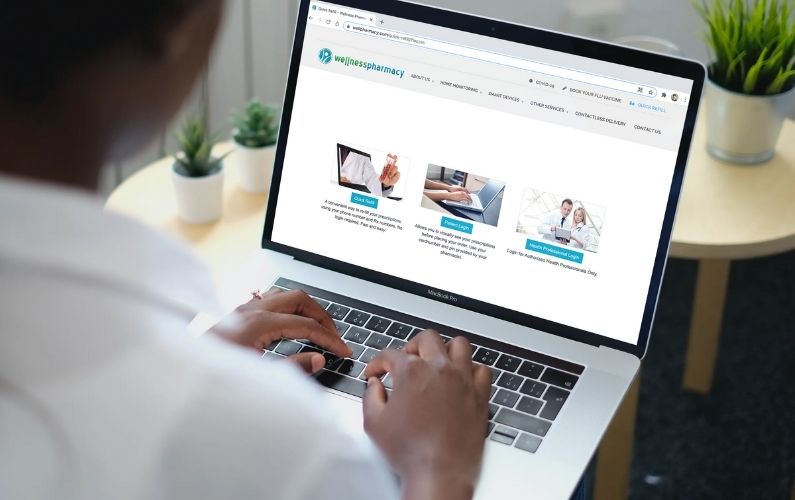 How to Get Started
If you're wondering how you can get started using Wellness Pharmacy 360 and our customized care services here's what you can do:
Ask one of our pharmacy team members and will provide you with a login card and instructions
Download our app, Wellness Pharmacy 360
How to Order Refills Without Needing The App Or a Login
Text "MOREINFO" to 1-855-6-WELLRX (1-855-693-5579) and follow the text instructions
Call 1-855-6-WELLRX (1-855-693-5579) and follow the verbal instructions
Click Quick Refill and enter your phone number and the prescription number
Following any of these options will have you on your way to a better pharmacy experience.
Wrapping Up
The Wellness Pharmacy 360 App, combined with our customized care services will provide you ease and peace of mind when dealing with anything pharmacy-related.
Scan the QR code below and download the Wellness Pharmacy 360 app today!