How to Stay Safe During Cold Temperatures
As temperatures drop during the cold winter months, make sure you know how to stay safe and prevent cold exposure injuries.
During winter, most people like to stay cozy and warm inside while enjoying the holiday season. Others prefer to venture out into the winter wonderland and enjoy the snow while participating in activities such as sledding, skiing, or snowshoeing. Regardless of your preferences, there's a good chance you will catch yourself out in the cold weather at some point, even if it's merely to shovel the driveway.
Though the risk may not be apparent at first, it's a good idea to take extra precautions to prevent injuries due to cold exposure.
This blog post will share the potential consequences of cold exposure, common symptoms, risk factors, and treatment options. Let's get started!
The Consequences of Cold Exposure
Venturing outdoors during the wintertime without sufficient protection can result in serious injuries, such as frostbite.
According to Mayo Clinic, frostbite is defined as "an injury caused by freezing of the skin and underlying tissues." It occurs most commonly on the fingers, toes, nose, ears, cheeks and chin. In severe cases, infection and nerve damage may result.
Frostnip, on the other hand, is a less severe injury associated with cold exposure and does not result in any permanent skin damage. It usually causes feelings of numbness on the face, ears, or fingertips.
Typically, exposed skin is most vulnerable to frostbite and frostnip. However, it can still occur in covered areas of the body if temperatures are extreme. For this reason, it is best to avoid cold exposure if possible, especially for extended amounts of time.
Now that you know the dangers of cold exposure, let's review the symptoms of frostbite.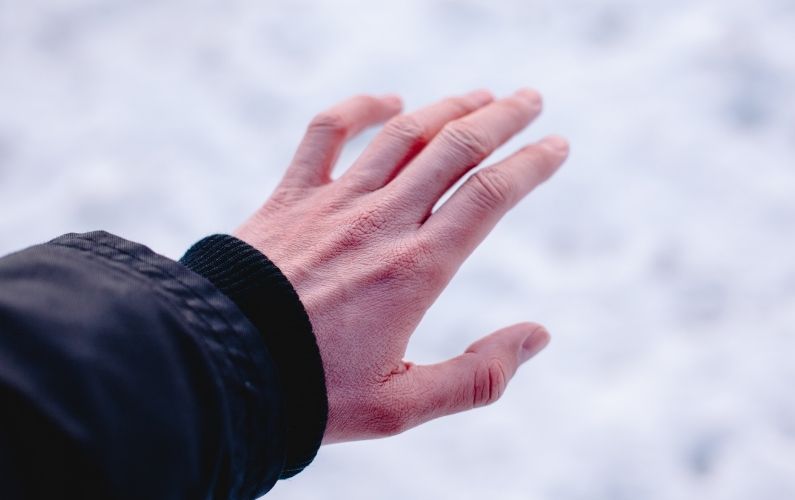 Symptoms of Frostbite
By becoming aware of frostbite symptoms, you can identify it quickly and seek treatment as soon as possible. Here are some common symptoms to watch out for:
Cold skin and a prickling feeling
Numbness
Red, white, bluish-white or grayish-yellow skin
Hard or waxy-looking skin
Clumsiness due to joint and muscle stiffness
Blistering after rewarming, in severe cases
Who's at Risk?
Certain risk factors can cause you to be more susceptible to cold exposure injuries. If you fall into one of the categories mentioned below, it is best to take extra preventative measures when going outdoors in the winter.
Being a baby
Being an older adult
Drinking alcohol
Being in outdoor conditions, such as high altitudes or windy, wet weather, or being immersed in cold water
Not dressing appropriately for cold weather, having wet skin, or wearing wet or damp clothing
Being exhausted or dehydrated
Being exposed to cold temperatures in your workplace (e.g. working in cold-storage units)
Having certain health conditions
Prevention Tips for Cold Exposure Injuries
There are several different steps you can take to reduce your risk of developing a cold exposure injury. Here are a few:
Dress appropriately and wear several layers
Pack extra clothing in case yours gets wet
Wear thick gloves, socks, and a toque
Limit the amount of time spent outdoors when it is cold
Stay hydrated and drink warm fluids
Stay dry in the cold
Keep these simple tips in mind when planning a trip outdoors or when you know you will be outside for a prolonged period.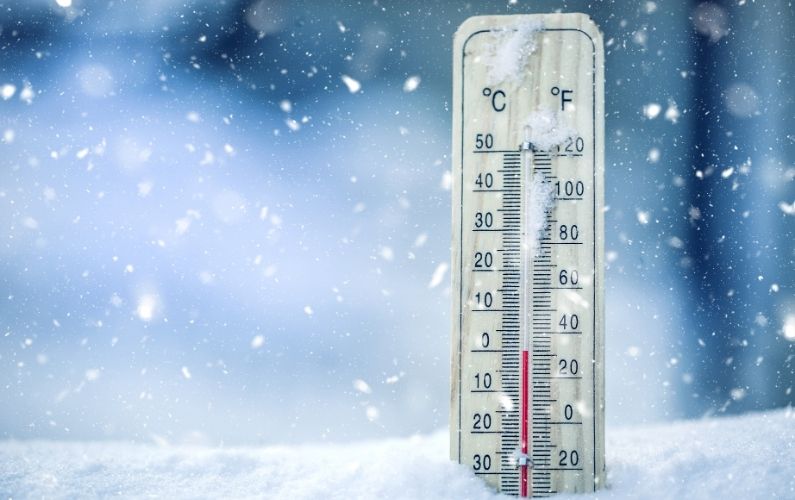 Simple First Aid and Non-Pharmaceutical Treatments
As frostnip is a milder form of cold injury, you can treat it yourself using simple first aid and non-pharmaceutical treatment options.
Start by getting out of the cold weather and into a warm and dry place. Next, begin to warm the affected skin up gradually. As the skin starts to warm up, you might begin to feel pain and a tingling sensation as the numbness wears off.
You can take ibuprofen (Advil, Motrin IB, etc.) to reduce the pain.
When to Seek Medical Attention
Since frostbite can cause permanent damage to the skin, it is crucial to seek medical attention as soon as you start experiencing any of the symptoms below:
Signs and symptoms of superficial or deep frostbite
Increased pain, swelling, redness or discharge in the area that was frostbitten
Fever
New, unexplained symptoms
If you begin to experience hypothermia, a condition where your body loses heat faster than it can produce itself, seek emergency medical attention immediately.
Common symptoms of hypothermia include:
Intense shivering
Slurred speech
Drowsiness and loss of coordination
Closing Thoughts
We hope you found this post helpful and have learned how to stay safe during cold temperatures.
Keep these tips in mind during the winter season to protect you and your family from cold exposure injuries.
If you have any questions about the information above, please reach out to your healthcare professional or contact one of our pharmacists here. We are always happy to answer your questions and clarify the treatment options that are best for you.
Sources:
https://www.mayoclinic.org/diseases-conditions/frostbite/symptoms-causes/syc-20372656